---
Householders
Stories
Biblioasis, 2021
A woman impersonates a nun online, with unexpected consequences. In a rapidly changing neighborhood, tensions escalate around two events planned for the same day. The barista girlfriend of a tech billionaire survives a zombie apocalypse only to face spending her life with the paranoid super-rich. From a university campus to an underground bunker, a commune in the woods to Toronto and back again, the linked stories in Householders move effortlessly between the commonplace and the fantastic in deft and exacting narratives about difficult children and thorny friendships, hopeful revolutionaries and self-deluded utopians, nascent queers, sincere frauds, and families of all kinds.
Finalist, Firecracker Award for Fiction
CBC and Quill and Quire Most Anticipated
Lambda Most Anticipated LGBTQIA+
49th Shelf Book of the Year
---
Other Houses
Poems
Brick Books, 2017
Objects are alive with the presence of the people who have handled them. Myths and legends are interwoven with daily life. Visionaries, mystics, charlatans, artists, and the dead speak to us like chatty neighbours. An imaginary library catalogues missing people. Reading becomes a way of remembering the dead. Home is an elsewhere we are "called to," a mystery that impels children to wander off, and adults to grow in unexpected directions. Each of these poems unfolds with the sweep and precision of a compressed novel.
---
How You Were Born
Stories
Pedlar Press, 2014
How You Were Born is a collection of stories that investigate the bizarre, the tragi-comic and the unbelievable elements that run through human lives. An aging academic becomes convinced that he is haunted by his double. Two children believe their neighbours are war criminals in hiding. A dwarf in a circus dreams of a perfect wedding. An eleven-year-old girl becomes obsessed with the acrobat who visits her small town. Two women fall in love over a painting of the apocalypse. A group of siblings put their senile Holocaust survivor father into institutional care, while failing to notice that he is reliving the past. Each story examines, from a different angle, the difficult business of love, loyalty and memory. With elegance and restraint, in spare language, these narratives run the gamut from realistic to uncanny, from ordinary epiphanies to extremities of experience. Settings range from present-day Toronto, to small town Ontario in 1914, to West Virginia in 1967, characters ranging from the very young to the very old, the manifestly unhinged to the ostensibly sane. These are dark stories in which light finds a foothold, and in which connections, frequently missed or mislaid, offer redemption. Available at Another Story Bookshop.
Trillium Book Award, 2015
Longlist, Frank O'Connor International Short Story Award, 2015
Finalist, Governor General's Award for Fiction, 2015
Shortlist, ReLit Award, 2015
---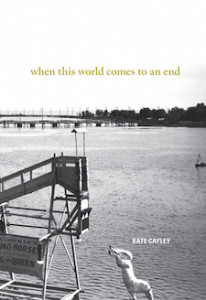 When This World Comes to an End
Poems
Brick Books, 2013
What if Nick Drake and Emily Dickinson met in the afterlife? What if a respected physician suddenly shrank to the size of a pea? What if the blind twins in a Victorian photograph could speak to us? What if we found another Earth orbiting another sun? A book of poems about lost moments of history, photographs, and folktales
Shortlist, ReLit Award, 2014
---
The Hangman in the Mirror
Young Adult Novel
Annick Press, 2011
Françoise Laurent has never had an easy life. When her parents die suddenly from the smallpox ravishing New France (modern-day Montreal), Françoise sees it as a chance to escape the life she thought she was trapped in. Seizing her newfound opportunity, Françoise takes a job as an aide to the wife of a wealthy fur trader. The poverty-ridden world she knew transforms into a strange new world full of privilege and fine things—and of never having to beg for food. But when Françoise is caught stealing a pair of her mistress's beautiful gloves, she faces a future even worse than she could have imagined: thrown in jail, she is sentenced to death by hanging. Once again, Françoise is left to her own devices to survive … Is she cunning enough to convince the prisoner in the cell beside her to become the hangman and marry her, which, by law, is the only thing that could save her life?
Geoffrey Bilson Award for Historical Fiction, 2012